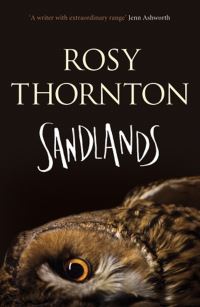 These are short stories all set in the area know as The Suffolk Sandlings, mainly around Snape, Blaxhall and Aldeburgh. The author uses the real names of the villages and locality but then weaves in past and present, magic and supernatural.
Having lived on the edge of The Sandlings for 23 years I know the area well, so was interested to read these stories even though I'm not keen on short stories and even less fond of ghost tales.
As I'm not much good at writing reviews and I couldn't find a short review anywhere, here's what it says on the back of the book, big enough for you to read, hopefully.
I enjoyed most of the stories, but probably only because of the area, as it's not something I would choose to read normally.
Next up - " The Lanimer Bride" by Pat McIntosh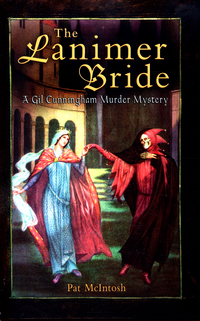 11th in this series set in 15th century Scotland. A stand alone story but as always things make more sense if you start at the beginning. All 11 have been a good read if you like historical crime.
This is the note from the library website
How could the heavily-pregnant bride of the lanimer-man vanish into thin air? Young Mistress Audrey Madur is missing and her husband, responsible for maintaining boundaries and overseeing land use in the burgh of Lanark, is strangely reluctant to search for her. Gil Cunningham, answering the frantic appeal of Audrey's mother, finds himself searching the burgh and the lands round about, questioning family and neighbours. He and Alys uncover disagreements, feuds, adultery and murder, and encounter once again the flamboyant French lady Olympe Archibecque, who is not at all what she seems. And then another lady goes missing.
Wish these books included a translated list of the difficult old Scottish words the author uses, it would make them easier to understand.
Mrs Miniver by Jan Struther was first published in 1939
and begun as a column in The Times. I read it many
years ago but wanted to re read after reading her other book "Try Anything twice". The cover of this edition shows a still from the film starring Greer Garson. The book and film were both popular in the States and here. Churchill said they did more for the war effort than a flotilla of battleships and Roosevelt claimed it had hastened America's entry into the war. It's short essays and sketches about a family during the early months of the war. An easy enjoyable read.
Next "Second-hand Stories" by Josh Spero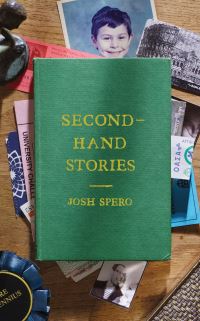 The library describes it thus............
.Every second-hand book tells two stories: one within its pages and another of the life it lived before changing hands. Whether mundane or extraordinary, on a grand scale or intensely personal, every second-hand book conceals the story of its past life. Lives filled with love, loss, scandal and conflict, these are the intimate and incredible stories that author Josh Spero uncovered after tracking down the previous owners of 12 of his second-hand books
.
I thought "how the heck did he know who owned his books previously?" But it's because they are all books read while he was studying Classics at University and have the name and often the school/college and dates noted in the front. For each book he writes about what he was doing at the time of the previous owner's ownership( if you follow) and then a few pages about the previous owner, why they had the book and why it was disposed of for him to be able purchase it. Unfortunately after about 20 pages I became an anti-snob snob! With all the books being translations of Greek or Latin texts, I soon found I wasn't interested in why he had bought them or why the previous owner had owned them. Back to the library unfinished.
Edward Marston ( real name Keith Miles) has written a
lot
of books, all - I think-historical crime and there are many different series. Looking him up on Fantastic Fiction I found he's been writing 2 or 3 books a year since the mid 80's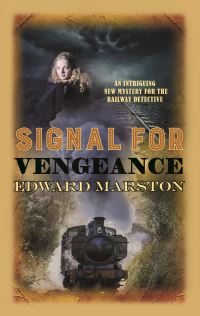 Sadly I think it's about time he stopped! This one - Signal for Vengeance - the 13th and latest in The Railway Detective series, is not well written. He tends to repeat whole paragraphs about the characters in each book and now seems to write in very short sentences. I did finish it because it's a crime book and I needed to know who-did-it and because I've read all the previous in the series and if he writes another I'll probably read it and moan all over again!
This is a fascinating read. Most people do research by reading other books but of course Ruth's research has involved all the various TV programmes where she has dressed and lived the part. This is what it says about this book on Amazon -
The Tudor era encompasses some of the greatest changes in our history. But while we know about the historical dramas of the times - most notably in the court of Henry VIII - what was life really like for a commoner like you or me?
To answer this question, the renowned "method historian" and historical advisor to the BBC Ruth Goodman has slept, washed and cooked as the Tudors did - so you don't have to! She is your expert guide to this fascinating era, drawing on years of practical historical study to show how our ancestors coped with everyday life, from how they slept to how they courted.
Using a vast range of sources, she takes you back to the time when soot was used as toothpaste and the "upper crust" of bread was served to the wealthier members of the house. Exploring how the Tudors learnt, danced and even sat and stood according to the latest fashion, she reveals what it all felt, smelt and tasted like, from morning until night.
Perhaps not a book for reading straight through but as an-inbetween-other-books book it's really good.
Back Eventually
Sue