Several years ago when we lived on the smallholding and I wrote for the Suffolk Smallholders Newsletter, I did a couple of pieces about preparing for winter, mainly written for people new to the countryside. There was a check list to prepare................
Animal feed, lag outside taps, wood for woodburners, cylinder gas for cooker, coal for the Rayburn, examine welly boots for cracks or holes, warm weather and wet weather gear for outdoor work, emergency stuff in case of power cuts, spare diesel for the car and tractor etc etc.
Oh how much simpler life is in town .............not that I really want a simple town life but Hey Ho! All we have to do is to get the gas central heating boiler checked. That's now been done and Thank Heavens all was well despite the boiler being quite old (but apparently a very reliable make) so bill paid - sorted. I was a bit concerned that the man would slap a red Do Not Use label on it which is what happened many years ago when we got someone out to repair the grill on a Calor (cylinder gas) cooker. He said the whole cooker was too old, didn't comply to regulations and stuck the label across the door. I'm afraid I just carried on using the hob and oven for several more months until we could afford a new cooker.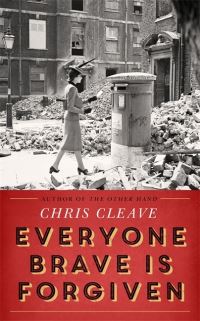 Very much enjoyed the above book which I finished while at the beach hut on Tuesday. Certainly doesn't glamourise what Londoners went through during the Blitz or soldiers caught on Malta during the siege. Here's the details from the library website..........
"When war is declared, Mary North leaves finishing school unfinished, goes straight to the War Office, and signs up. Tom Shaw decides to give it a miss - until his flatmate Alistair unexpectedly enlists, and the conflict can no longer be avoided. Young, bright and brave, Mary is certain she'd be a marvelous spy. When she is - bewilderingly - made a teacher, she instead finds herself defying prejudice to protect the children her country would rather forget. Tom, meanwhile, finds that he will do anything for Mary. And when Mary and Alistair meet, it is love, as well as war, that will test them in ways they could not have imagined, entangling three lives in violence and passion, friendship and deception, and inexorably shaping their hopes and dreams."
The book finishes with a few pages about the authors grandparents who formed the basis of this fictional story. There is a mention in one newspaper review that he is working on a sequel set in the first years of peace.
Then I went to the beach hut again on Wednesday and read some of this
The fourth book written by Jill Paton Walsh using the characters created by Dorothy L Sayers. Another well written story. When I worked in libraries all those years ago Jill Paton Walsh was a children's author so I've enjoyed discovering these books for adults and she also wrote four other crime novels set in Cambridge. I've now requested the first of these from the library.
I know parts of the country haven't been enjoying the mini heatwave that we in the east have had this last week. By golly it's been HOT. The grass in the back garden is brown apart from one small bit that's always in shade. Windows have been wide open and blinds closed, in hospital where they don't have windows that open wide, Col has had 2 fans running to keep cool. He does seem to be feeling better again although last time I said that he plunged down and had more problems so I won't say anymore.
Only a couple more days of Paralympics, it has been SO good and I shall be disappointed to go back to regular TV. I think only in this country would we have a programme like The Last Leg! BTW am I the only person who isn't getting agitated by Great British Bake Off moving to Channel 4? I've never seen a single episode, although if it was Strictly Come Dancing or Wimbledon tennis disappearing from terrestrial TV to Sky then I would be out there shouting!
Thank you for comments on the last post
Back in a jiffy
Sue