First the book review...........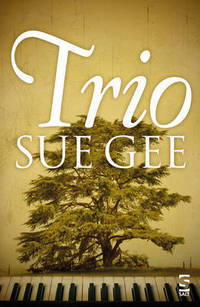 I've finished reading Trio by Sue Gee, an author who I hadn't read before so must have come across details of this one on a blog.
I don't really enjoy sobbing my way through a book so probably ought to have abandoned this after the first few pages as it begins with the traumatic death of a young married woman from TB.
Set in Northumberland the story starts in late 1936 with Steven Coulter, a young enthusiastic history teacher and his wife living in a remote moorland cottage. He has been caring for his sick wife Margaret and teaching at the boys school in town but comes home one snowy day to find her dead.
Months later Frank Embleton, head of history at the school reaches through Stevens grief to invite him to a concert given by his sister, Diana, a cellist and two friends - the trio of the title. Frank, Diana, Margot the pianist and Phillip a college trained violinist, have been friends since childhood and have been giving concerts for many years in the local area. Steven has no musical knowledge at all but finds in Margot someone who is also lonely - her mother died when Margot was a child and she has lived with her father in the "Big House" ever since.
They are both shy and from completely different backgrounds but eventually music brings them together. War is creeping ever nearer and each person in the group also has a back story which affects them now. This part of the book finishes in early 1939.
Then suddenly it's 2015 and the rest of the story is told by Geoff who is Steven and Margot's now elderly son whose beloved wife Becky has just died. This last part of the book moves back and forward so that the missing 66 years are gradually explained.
Beautifully written account of grief and love, but in a way almost too sad to enjoy.
Thank you for all the comments on the last post.
Do doctors/people really think that overweight people don't know they ought to lose weight? Of course we B***** well do and I have several times since I was 16 and weighed and 9 a half stone and was told I was overweight by "friends" .
Unfortunately knowing and doing are two different things.
Things then got worse as Colin had to go back into hospital on Friday evening as he started shivering and running a high temperature and low BP. So once again he is on antibiotics.They soon had him on a drip..... saline then platelets and blood. It's not unusual for patients who've had lots of chemo and stem cell transplant to have to go back in but this Cancer thing is just NOT fun.
Just adding in this latest photo of Jacob to cheer me up!
But lost the original post with your comments - Whoops - Sorry
Back soon-ish. Sue